Braised Leek Galette
This is ultimate comfort food. Crispy, flaky buttery pastry, creamy buttery leeks, salty parmigiano reggiano. Mmm.

This is a surprisingly easy dish, and the pastry is surprisingly easy too. I used to always shy away from homemade pastry because I never knew how much was too much when comments in recipes said "don't overwork your dough". What's it meant to look like anyway? The whole thing just gave me anxiety. But this pastry is easy, and you can just leave chunks of butter in your dough and essentially not knead it at all, so?

The main thing with this one is just to prepare you dough 2 hours in advance of prepping the rest.

You can swap out the creme fraiche for sour cream, cottage cheese, some grated cheese, or any combo of these. A little bit of blue cheese crumbled in there with some thinly cut potatoes on top is good! Tomatoes are also great in a galette but don't need to be cooked before adding to the pastry, just bang them on and pop it in the oven.



Ingredients:

Pastry:
2 cups of plain flour
Pinch of salt
170g of COLD butter, cubed
1 tablespoon of apple cider vinegar
1/2 cup of iced water

Filling:
2 large leeks
100g butter
6 sprigs of oregano
2 cloves of garlic
100g creme fraiche
Parmigiano reggiano
Pinch of salt
Pinch of pepper
1 egg

Top with mixed green herbs, rocket or watercress.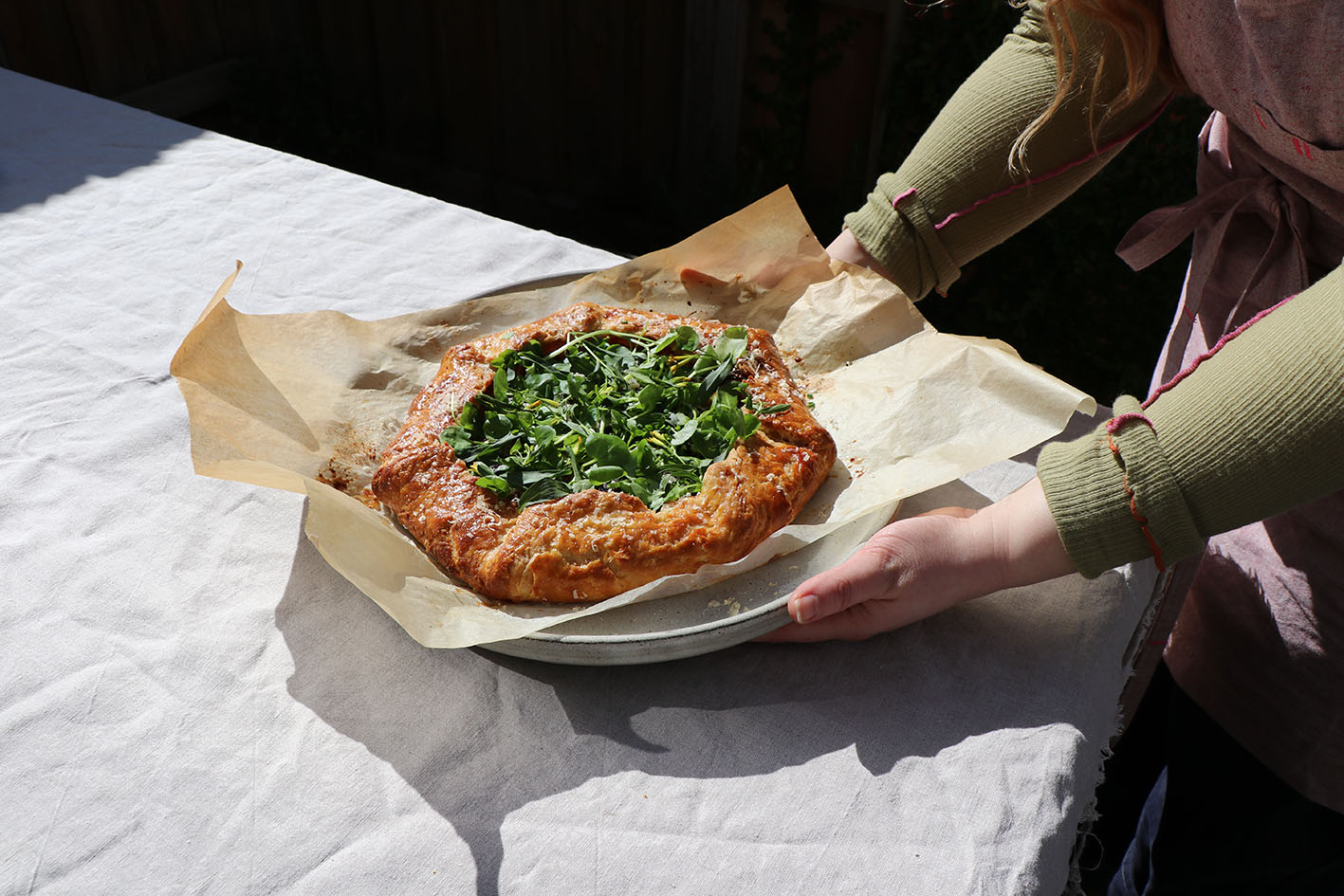 Method:
In a food processor, pulse flour, salt and COLD butter until mealy but with large pea sized chunks of butter remaining. Always go with bigger chunks than smaller if in doubt.
Turn out into a bowl and add in apple cider vinegar, followed by 1/4 cup of the ice water. Using a spoon, bring the dough together, slowly adding more of the ice water until it starts to combine into a shaggy dough.
Turn out onto a floured surface and pat together so there are no more dry bits. You can knead here, but it will only be like 2 kneads. You just want there to be no obvious dry bits. Cover with plastic wrap and refrigerate for 2 hours.
With 30 mins remaining for your pastry's refrigeration time, cut leeks into 2 inch lengths and split in half longways. Melt butter in a large fry pan on a medium heat and arrange your leeks, cut side down into butter, with oregano, garlic and salt. Cook them for about 30 minutes, turning halfway and occasionally basting them in the butter.
If you have any spare lengths of leek, slice them into matchsticks and fry up in remaining garlicky oil until crispy, set aside on paper towel.
When the 2 hours is up, preheat oven to 220 C
Roll your pastry out onto some lightly floured parchment paper until approx 35cm diameter.
Spread the creme fraiche on the inside, leaving a 2 inch bored, top with leeks, and then use the parchment paper to lift and fold the edges in, creating creases every few inches to make it onto a round shape.
Brush the pastry generously with whisked egg and cook for 50 minutes until dark golden and crisp.
Top with crispy leek matchsticks and a generous grating of parm reg. I like to top with some herbs and watercress or rocket too.