Greens & Nusturtium Salad with Golden Beets, Tangelo, Mint, Dill & Nigella Seed Dressing


This salad is so quick and so easy and can be made with almost any combo of ingredients you have laying in your fridge and garden.

You don't have to add nusturtiums, but I find them really delicious (kind of taste like apple to me) and they grow like a weed so why not plant some in your garden?

The greens can be any lettucy/spinach/rocket/leafy greens you can get your hands on and you can swap the golden beet for regular beet or candy beet. Tangelo juice can easily be replaced by lemon or lime or orange. The nigella seeds are doing most of the heavy lifting here alongside the tart punch of citrus and ACV, the rest is mostly delivering on texture.



Ingredients:

Mixed green leaves
1 golden beetroot
1/3 cup of white wine vinegar
Small handful of mint
Small handful of dill
A handful of nusturtium leaves & flowers
1/2 teaspoon of nigella seeds
Juice from 1 tangelo
1 tablespoon of apple cider vinegar
Pinch of salt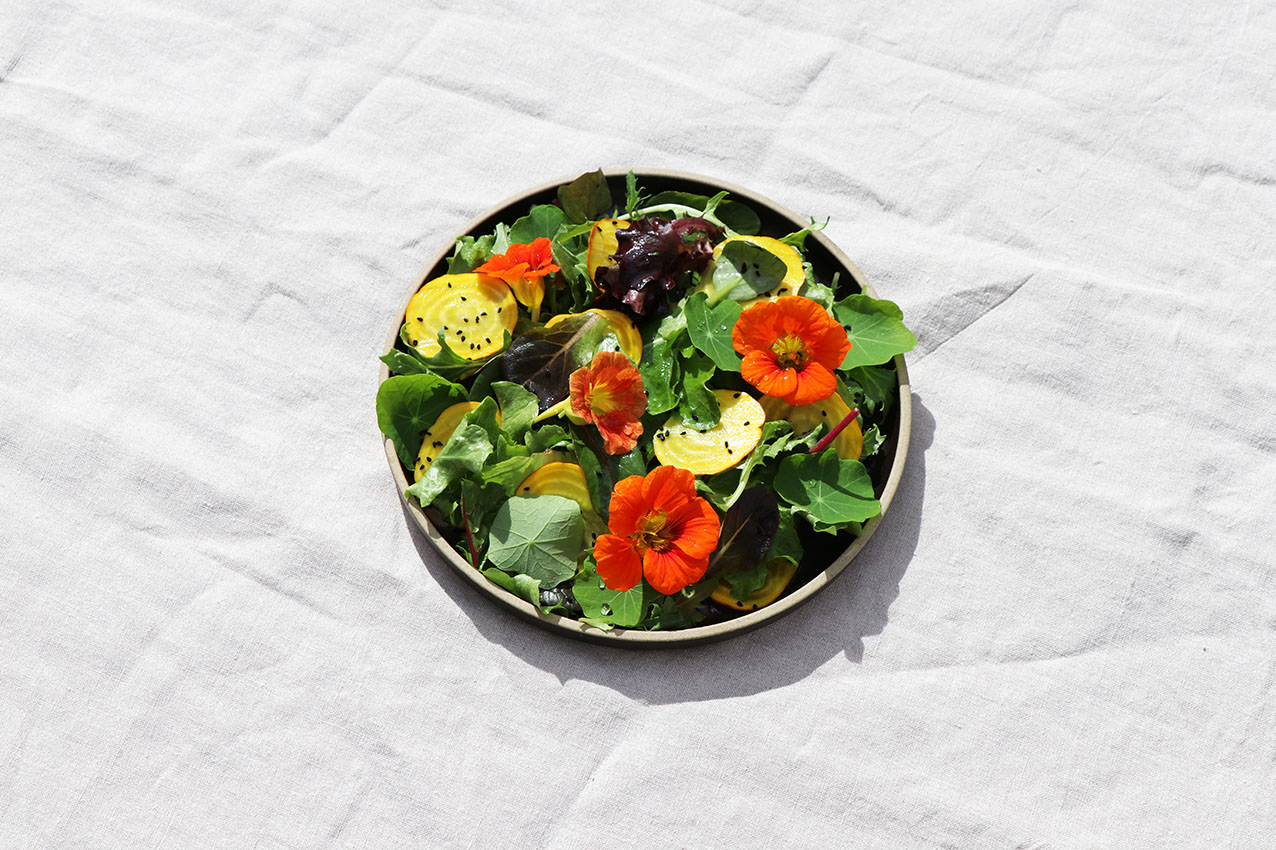 Method:
This salad is very easy. Start by washing your golden beet and then running it through your mandoline on the thinnest setting, mine is 1.5mm. Sit it in a jar with the white wine vinegar. Top up with water if necessary to keep beets submerged. I don't add sugar to this quick pickle because I find that beets are already quite sweet. I also use mostly vinegar because it's only sitting in there for 5-10 mins max.
Wash and dry your greens and place them in your bowl, add nusturtium leaves, beets and herbs and toss around.
Combine your tangelo juice and apple cider vinegar with the salt, I normally just shake these together in a jar but you could just stir in a small bowl too.
Drizzle over your salad and toss through.
Sprinkle your nigella seeds on, they should stick well now that the salad is moist from the dressing.
Arrange your nusturtium flowers on top to look real pretty.