Nettle & Hazelnut Pesto Spaghetti
I have some very fond memories of making handmade pasta. The most special to me is a long weekend away with friends celebrating a birthday. We all chipped in to knead the dough, roll it out and hang it on clothes hangers from the Airbnb's wardrobes. Everyone had a go at everything, everyone was very involved and invested in the end result. I hope it wasn't just the wine because I felt like it was a very bonding experience for everyone.

I went for a really long walk around Darebin creek during the depths of stage 4 lockdown, and believe it or not, in the not-so-outer suburbs of Melbourne, I found paddocks of sheep. If there's one thing I know for sure, it's that where there's sheep, there is nutrient rich soil. And what loves nutrient rich soil? Stinging nettle! I decided to walk back along the fence of this paddock and found LOTS of it. I wasn't prepared with gloves and a plastic bag so I went back more prepared that afternoon.

I quickly prepared some pasta dough and got it in the fridge, and toasted some hazelnuts to make a nettle pesto. Here's the recipe, I hope you enjoy it as much as I did.


Ingredients:

Pasta:
300g tipo 00 flour
1 teaspoon of salt
3 eggs

Pesto:
3 cups of stinging nettle, leaves removed from stem
1 handful of basil and parsley
Juice and zest from 1 lemon
½ cup toasted hazelnuts
1/3 cup grated parmesan
1 tablespoon of white wine vinegar
4 tablespoons of olive oil
Pinch of pepper
1 tablespoon of salted capers, rinsed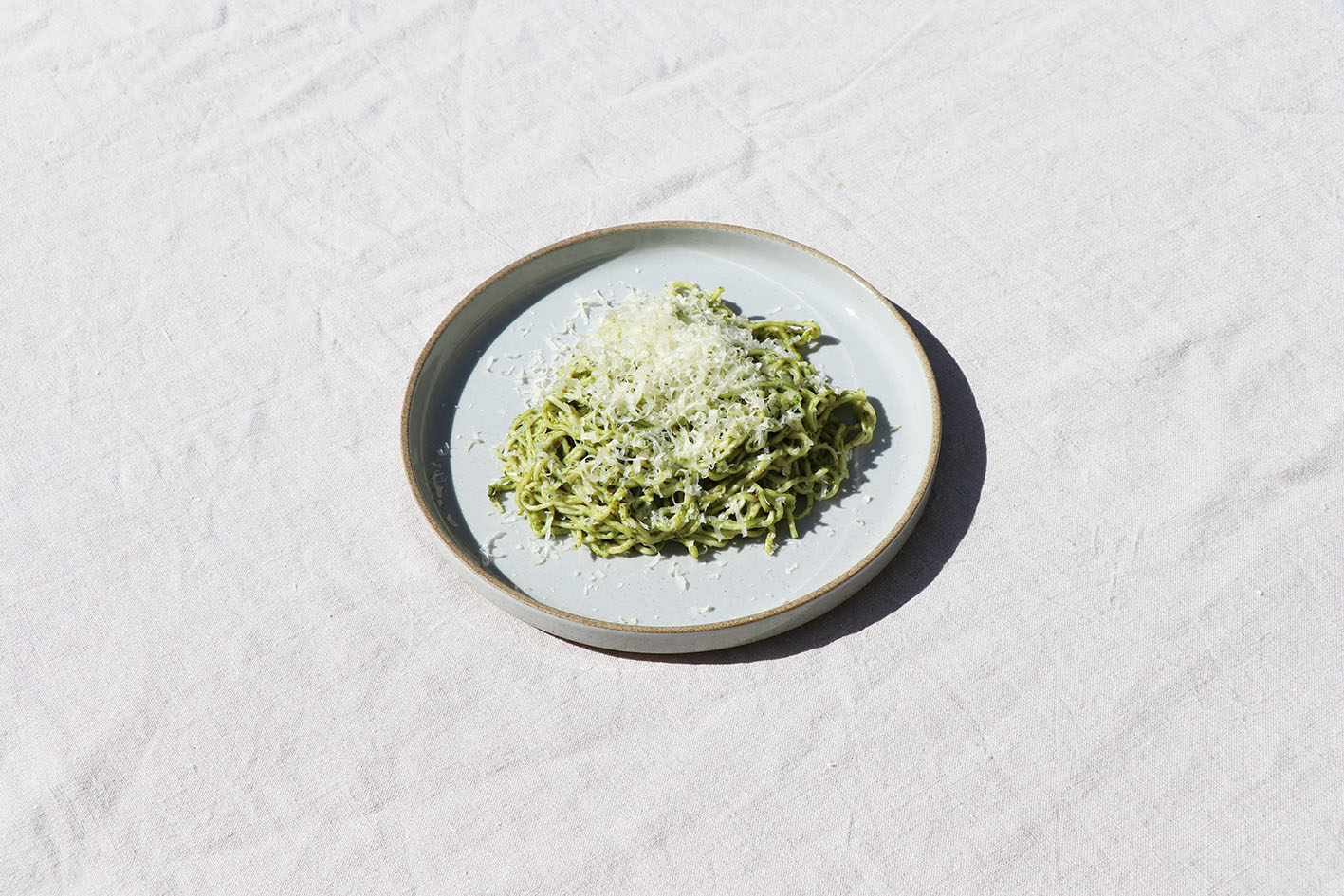 Method:
Prepare you pasta dough. Weigh out your flour and combine with salt. Tip flour out on a clean bench, and make a well in the centre.
Crack in your eggs and begin to whisk them with your hands, slowly incorporating more and more of the flour as you go.
Bring the dough together and knead. The way it comes together will depend on the size of your eggs, so you may need to add a little warm water (1-2 tablespoons max), but be careful not to make it too wet. It might seem it will never happen, but as you continue to knead it, it will combine! Have faith!
Knead for about 10 minutes, until the dough is smooth and elastic. Wrap it in plastic wrap and place in the fridge for at least 30 minutes (preferably 1+ hours).
While your pasta dough is in the fridge, toast your hazelnuts in the oven at 180 C for 8-10 minutes or until fragrant and slightly darkened in colour.
Bring a pot of salted water to the boil and place the nettle leaves into it for 90 seconds. Strain them and add them to a food processor with all other pesto ingredients except for the olive oil. While running the food processor, stream in the olive oil, it will become a creamy green paste. You still want it a little chunky so don't go overboard. Set this aside.
Remove the dough from the fridge and divide dough into 6 portions. Keeping each one you're not working on wrapped up so it doesn't dry up.
Using a pasta machine, rolling pin or wine bottle, roll out your pasta until nice and thin. Use a little spare flour or semolina to prevent the pasta from sticking to itself. Fold it up and slice into long strands of spaghetti or alternatively, use the spaghetti cutting attachment on your pasta machine if you have one.
Bring a large pot of generously salted water to the boil and throw in your pasta, cook until just pre-al dente. This will only take a few minutes with fresh pasta. You'll heat it again in the pesto so no overcooking please!
Drain pasta and return to pot, add pesto and warm over a low/medium heat until pesto is warmed through.
Serve with some extra grated parmesan on top and a drizzle of extra olive oil.